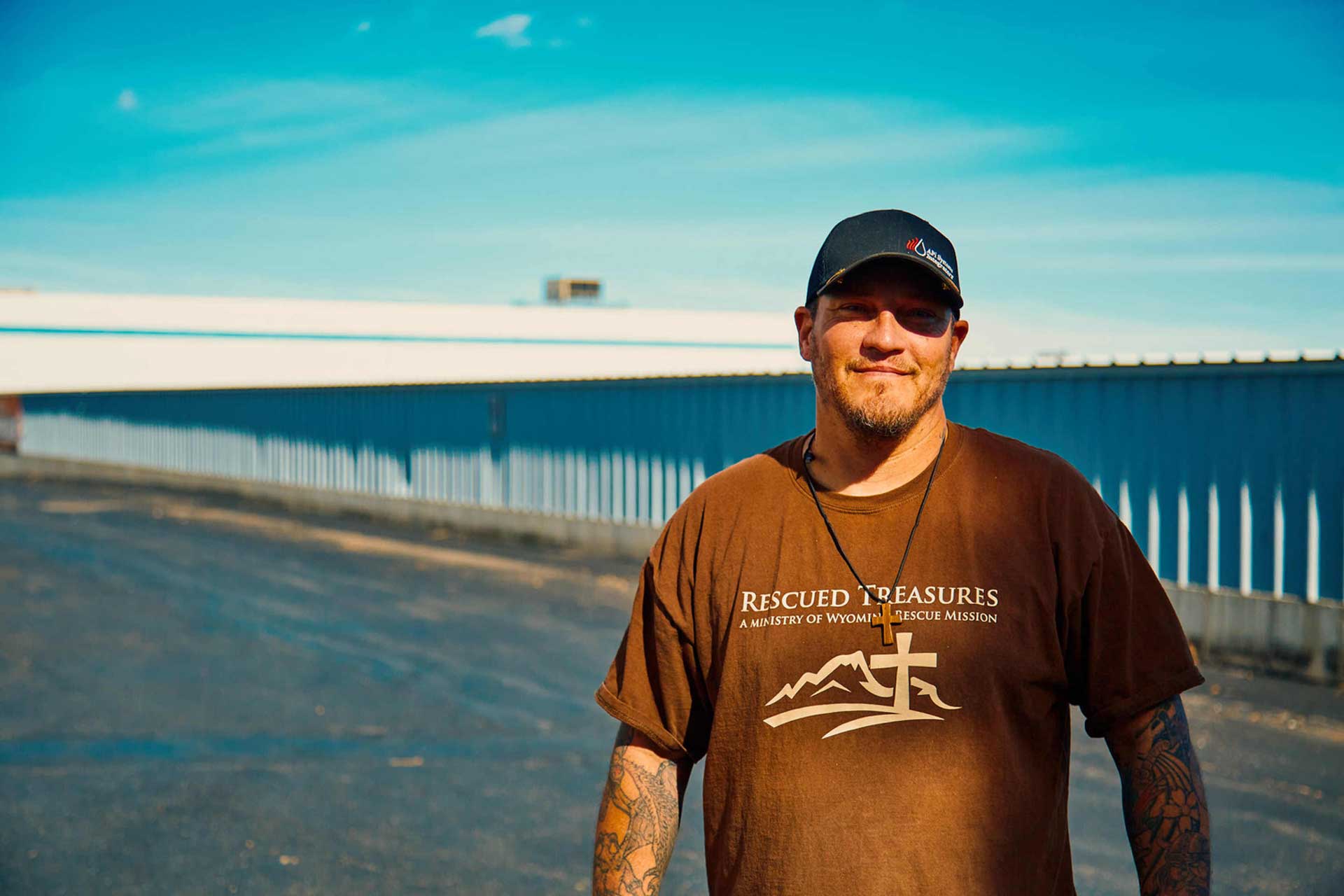 07 Oct

Meet John
John's heart is filled with gratitude for YOU!
Nearly 20 years ago, John suffered a serious back injury that altered the course of his future. "Back in those days, we didn't know what we know now about pain relief and opioid abuse," he says.
A single father, John had a good job and a woman he planned to marry. But as he grew increasingly dependent on his prescription medication, his life began to deteriorate. He made mistakes he deeply regrets and was incarcerated.
"I lost my home, my job, my fiancée and custody of my daughter," he painfully recalls. When he was released, he wandered the country, moving from shelter to shelter. Finally, when he found himself in Casper at Wyoming Rescue Mission, he knew something was different: the presence of God and a feeling of acceptance he'd never had before.
"I started to submit to people helping me make decisions and calling me out where I'm wrong," he says. He dedicated himself to our faith-based Discipleship program and formed solid relationships within the community. But as he approached graduation, he feared he'd return to an aimless life, without a clear path forward.
So, at age 40, he enrolled in college and approached his studies with the same diligence and commitment he'd become known for at WRM. He received scholarships, made the honor roll, and is working towards a degree in geology from the University of Wyoming.
His journey was far from easy, however. He encountered countless roadblocks along the way
because of his past. But he found that if he worked hard and did his part, mentors from WRM, kind donors like you and friends in the community were ready to step up and help… because of their faith and belief in him.
"That's God's way. That's Wyoming's way," he says.
This Thanksgiving season – and all through the year – your kind generosity fills hearts with hope and gratitude… and transforms lives like John's! "I look forward to my story continuing. It's been a miraculous journey. It's very much God… the entire city… and the people of Wyoming. It takes a village sometimes."
To read our Fall 2020 issue of Transformations, click here.
Help other people like John…
John's story of hope and healing is inspiring. Our long-term recovery programs exist to help other men and women find healing. Will you provide this help to others?
DONATE TODAY!