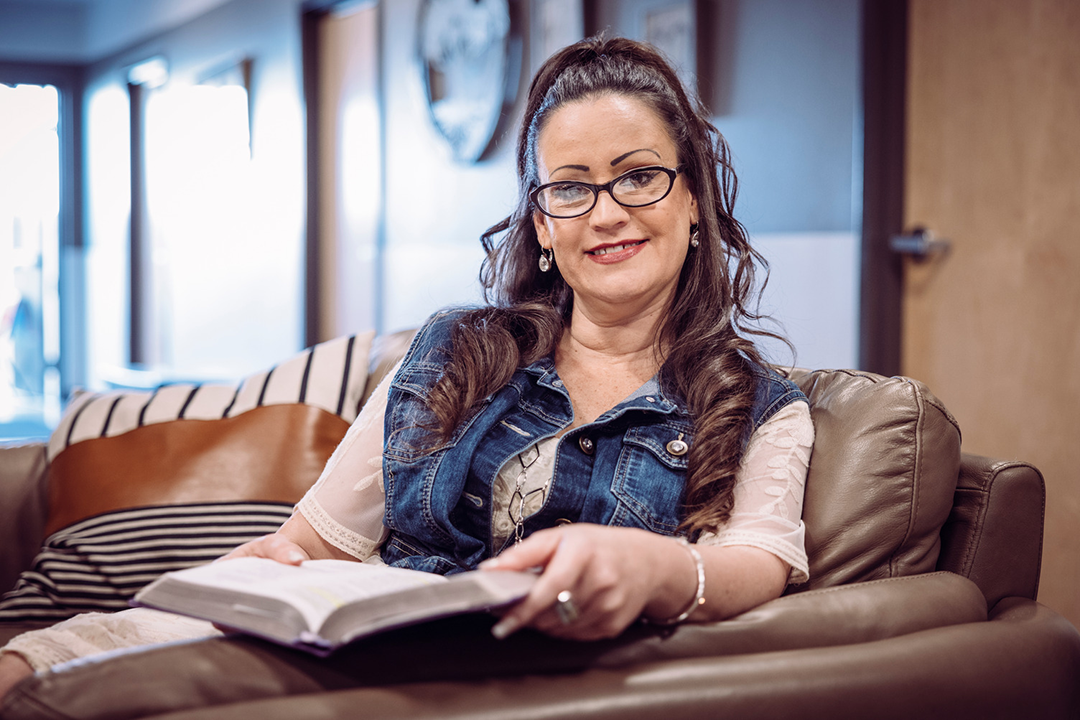 08 Nov

Kandice has joy and new life, thanks to you!
The best Christmas gift there is –
Kandice has joy and new life, thanks to you!
"I didn't have anywhere to go. I was empty inside…"

As a little girl, Kandice experienced horrors no child should be forced to endure. Beatings by her stepfather and mistreatment by her mother. "She would feed me out of dog food bowls in my bedroom," she says.

Her trauma led to low self-esteem that followed her into adulthood and began a vicious cycle of substance abuse… dysfunctional relationships… and unstable employment. Finally she found herself homeless. "I was on the streets, bouncing around from couch to couch. I didn't have anywhere to go," she says. "I was empty inside." That's when she turned to our ministry.

"When I walked through these doors, I had the most amazing peace – indescribable peace – that I had ever had in my life."

Kandice describes herself as spiritually, physically, emotionally and mentally unstable when she joined our Discipleship Recovery Program. But through our faith-based classes and the guidance of our godly staff, "The joy of the Lord came into my heart and I learned to fully surrender – to lay it all at the cross."

She is encouraged by Christian fellowship with other guests in work therapy at our Rescued Treasures Thrift store. "We watch each other grow and change and become the best version of ourselves," she says.

As for her future? Kandice finds peace in writing about the trials of her life and the Lord's healing love. She is also interested in becoming a wildland firefighter. But she won't be disappointed if God has other plans. "God gives us the desires of our hearts, but He also changes our desires to match His will for our lives. So I'm keeping an open mind and an open heart."

Kandice is excited to celebrate the restored hope she has been given this Christmas – and wants YOU to know just how grateful she is. "Since coming to WRM, I have new confidence. I have peace. I have joy. I have more self-worth. I feel like I have a purpose. It's amazing."

To read the most recent issue of Transformations, click to download.
Help other people like Kandice…
Kandice's story of hope and healing is inspiring. Our long-term recovery programs exist to help other men and women find healing. Will you provide this help to others?
DONATE TODAY!